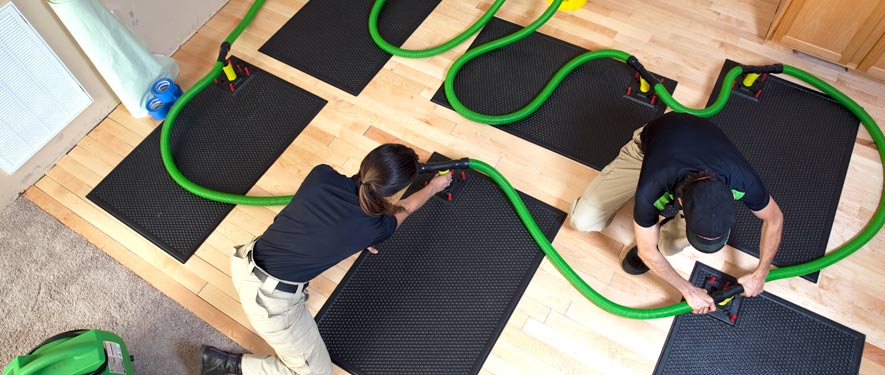 Step 4: Drying and Dehumidification
Our Water Damage Restoration Process
Once SERVPRO of Milwaukie/Happy Valley has removed all of the standing water we move onto the drying process. Porous materials, such as wood, drywall, and most flooring materials retain water that leads to breaking down and warping of the materials and mold. That is why it is important to make sure that materials are dried with the correct equipment. We use room measurements, temperatures, and relative humidity within a formula to find the optimal number of air movers and dehumidifiers to be used. Dehumidifiers work to take moisture out of the impacted area to prevent secondary damage while air movers are used to create an airflow that speeds up the drying process.
If you have any questions about our drying equipment, don't hesitate to call our office staff. They are always happy to help. 503-652-3997
Drying / Dehumidification
Our Professionals will use room measurements, temperature, and relative humidity to determine the optimal number of air movers and dehumidifiers to dry your home or business. We'll carefully monitor the progress using moisture meters until the materials return to acceptable drying goals.
Use Dehumidification Equipment
Use Monitoring Equipment to Track Progress
Monitor Floor and Walls
We check the moisture levels to monitor the drying process. 
Monitor Floors
Monitor Walls
Drying Equipment
Industrial-grade dehumidifiers help prevent secondary water damage like swelling and warping of floors, walls, and furniture.
High-speed air movers create airflow across walls, carpets, pads, and furniture, which accelerates the evaporation of moisture.